Source:
http://online.wsj.com/article/SB10001424052970204358004577032533741783056.html
Source:
http://en.rian.ru/world/20111123/168974746.html
Source:
http://www.nytimes.com/2011/11/24/world/europe/russia-elevates-warning-about-us-missile-defense-shield-plan.html
Source:
http://en.rian.ru/russia/20111123/168980202.html
Source:
http://www.rferl.org/content/us_stops_provinding_russia_data_on_europe_forces/24399024.html
Source:
http://en.ria.ru/mlitary_news/20111220/170388329.html
Source:
http://en.rian.ru/russia/20120226/171539262.html
Source:
http://www.boston.com/business/articles/2011/10/12/russias_putin_slams_us_makes_deals_in_china/
Russia said it may not let NATO use its territory to supply troops in Afghanistan if the alliance doesn't seriously consider its objections to a U.S.-led missile shield for Europe, Russia's ambassador to NATO said Monday. Russia has stepped up its objections to the antimissile system in Europe, threatening last week to deploy its own ballistic missiles on the border of the European Union to counter the move. The North Atlantic Treaty Organization says the shield is meant to thwart an attack from a rogue state such as Iran, that it poses no threat to Russia, and that the alliance will go ahead with the plan despite Moscow's objections.
Source:
http://online.wsj.com/article/SB10001424052970204753404577066421106592452.html
Kremlin officials say there are few differences between Messrs. Putin and Medvedev, and that their switch in roles will bring scant change. But analysts say the official return of Mr. Putin to the Kremlin may present difficulties for the West, amid his insistence that the U.S. and European Union are trying to undermine him.
Source:
http://online.wsj.com/article/SB10001424052970204753404577064260032325868.html?mod=googlenews_wsj
Source:
http://en.rian.ru/russia/20111208/169482978.html

Source: http://news.antiwar.com/2011/10/07/romney-makes-belligerent-foreign-policy-speech/
Source: http://www.bbc.co.uk/news/world-asia-china-16063607?cid=nlc-dailybrief-daily_news_brief-link12-20111207
Source: http://www.reuters.com/article/2011/12/28/us-russia-usa-rights-idUSTRE7BR0ND20111228
Source: http://www.time.com/time/world/article/0,8599,2103534,00.html#ixzz1iWR9P8AZ

Source: http://www.globalresearch.ca/index.php?context=va&aid=27015

Source: http://www.whiteoutpress.com/articles/q12012/us-troops-going-to-israel483/
What is a 'unipolar' world?
Source: http://uruknet.info/?p=m33894&s1=h1
Source:
http://globalresearch.ca/index.php?context=va&aid=28100
2007
Source: http://www.iht.com/articles/ap/2007/...ssia-Putin.php
Source: http://english.farsnews.com/newstext.php?nn=9010171139

Source: http://en.rian.ru/mlitary_news/20120117/170790557.html
Source:
http://www.jamestown.org/single/?no_cache=1&tx_ttnews[tt_news]=39088&tx_ttnews[backPid]=7&cHash=cff829c25f5739f437c3109de967ffd3
The second secret base in the Urals is an underground command and control center located at the Kosvinsky Mountain, about 850 miles east of Moscow. The site hosts the Russian Strategic Rocket Forces alternate command post, a deep underground command post for the general staff built to compensate for the vulnerability of older command posts in the Moscow region. The facility, finished in early 1996, was designed to resist US earth-penetrating warheads and is the Russian version of the American Cheyenne Mountain Complex.
Besides Yamantau Mountain and the Kosvinsky Mountain underground complex, Russia can still count on the Sherapovo bunker site, south of Moscow. Initially built in the 1950s, it was the primary command center for the Soviet leadership. The Kremlin is connected to Sherapovo and other bunkers by a secret subway line. According to a 1988 Pentagon report, once at Sherapovo, the Soviet leaders could have conduct a nuclear war by sending orders and receiving reports through a highly redundant communications system. Russia's general staff has a similar facility some 20 kilometers away from Sherapovo, known as Chekhov. Both sites can accommodate an estimated 30,000 people each one.
Although Russia has tried to keep secrecy about its underground bases, information about these sites have circulated anyway. According to a CIA report, "the command post at Kosvinsky appears to provide the Russians with the means to retaliate against a nuclear attack." The construction of the facility has actually helped Moscow to counterbalance the decline of its nuclear forces following the end of the Cold War and the collapse of the Soviet Union. In this sense, the existence itself of top secret bases within the territory of the Russian Federation is the best means of deterrence against any first strike intention, and thereby a warranty to world peace.
Source: http://windowonheartland.blogspot.com/2012/02/russias-top-secret-bases.html
Source:
http://www.jamestown.org/programs/recentreports/single/?tx_ttnews[tt_news]=34654&tx_ttnews[backPid]=7&cHash=54b53bf6cc
Source:
http://donvandergriff.wordpress.com/...erican-empire/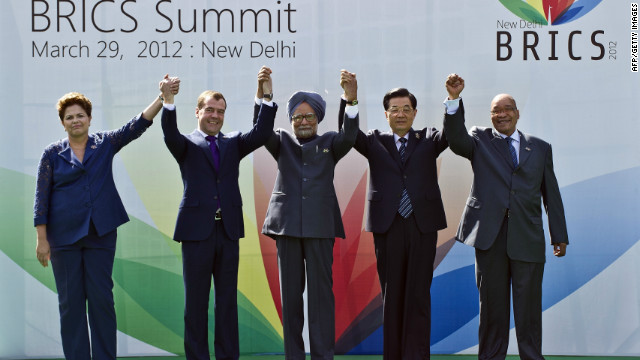 • The rest of the BRICS abhor China's rise.
• Russia is a "declining country" and doesn't have "much in common" with the rest of the BRICS as a significant player in the world economy, apart from its vast energy reserves.
• Therefore, BRICS countries aren't "natural allies".
• Indians are frightened of encirclement by China and are full of angst about the "very big imbalance" between them, although they have "lots of economic interests in common".
• China, in turn, is concerned about the spectre of a US-led Asian alliance arrayed against it, which Includes India.
• South Africa is struggling to sustain growth; Russia remains "volatile"; Brazil shows promise, while China and India are massive countries with extraordinary potential and highly impressive records. The BRICS isn't a "natural grouping".
Source:
http://www.strategic-culture.org/news/2012/03/31/brics-challenges-the-world-order.html
It has been a long time since I was as acutely aware of Russia's importance as during the recent conference on the Syrian crisis in Ankara. The conference participants, mostly delegates from Turkey, the Syrian opposition and several regional countries, said that everything depends on Russia, which alone can tip the scales. They said that if not for Russia's veto in the UN Security Council and military assistance to Bashar Assad, the country would have a new regime and would be democratizing by now. They said it again and again, closing their ears to Russia's arguments about other circumstances that may be more important and painful.
And lastly, after the UN Security Council adopted a resolution that ultimately led to the invasion of Libya, Russia and China have refused to support any document if it leaves the window open even a crack for military intervention. They say that NATO and other participants in the Libyan operation took advantage of the resolution to overthrow Gaddafi.
Source:
http://indrus.in/articles/2012/04/06/the_importance_of_being_russia_15391.html
Source: http://blog.alexanderhiggins.com/2012/02/16/passes-resolution-calling-syria-regime-change-russia-threatens-military-force-83901/
The Russian-Chinese double veto at the UN Security Council - the last in February - signalled to the West that the two powers were drawing a red line on Syria. Notably, China's second veto on Syria was only its eighth in history, highlighting the importance of the matter to Beijing. The message was clear: UN-sponsored regime change, military intervention, or arming of Syrian rebels - as seen in Libya - would never pass.
Source:
http://www.abc.net.au/unleashed/3939044.html
The Russians "seem to be going the other way," says Michele Flournoy, Obama's former Pentagon policy chief, citing an renewed emphasis on nuclear arms in military doctrine and increased atomic weapons spending. "Even though a second Obama administration might see it possible to do more reductions," Flournoy says, "the challenge is getting the Russians to that point."
Source:
http://www.usnews.com/news/blogs/dotmil/2012/05/16/putins-russia-is-pivotal-for-future-us-foreign-policy